---
Tubbing A 2000 FRC C5 Corvette
by Mell
The Corvette Forum has brought me hours of enjoyment and great information for my 2000 FRC. It is only right that I put some time back into the forum. Below is a description and some photos on how I did the tubbing on my car.
After looking at the availability of tires at the time of building my project car I decided that the Michelin Pilot Sport 335 30 18 on 12 inch wide HRE 547s would be my choice. I used the Mallet offset of 68mm (9 1/8 inch backspacing). The only problem with this selection was that I would have to modify my inside fender wells to get them to fit.
Get ready for some comments when your friends see you cutting up a brand new car. Just smile and get to work.
Take out the inside carpet to provide this view of the fenders.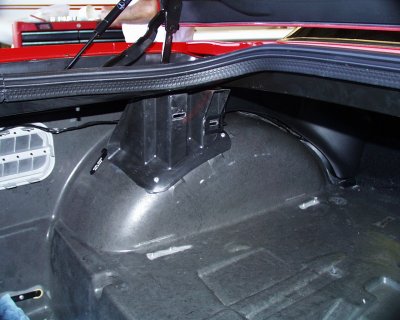 It is helpful to remove the seats and cover the interior because there will be a lot of fiberglass dust etc.
Remove the inside fender skirts inside the wheel wells, then inside the trunk draw out the cutout line as shown in the photos. I decided on a 2" tub. As you can see, I left the support tower intact. Cut the fender with a dremel tool and diamond cutoff wheel. You can use masking tape and draw on it for your lines (easier to make corrections or if you are brave, just draw on the glass.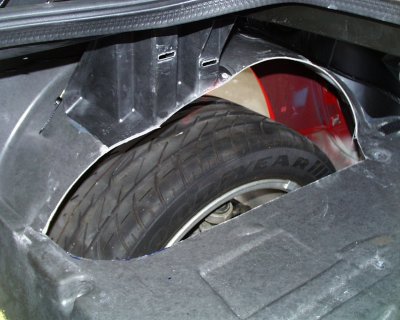 mell@tradezone.com
©2000